The "Swap Shop" at Lighthouse Pediatrics
We first heard about Dr. Dulce Dudley's idea for a "swap room" earlier this year and she promised that she would tell us more once the room was up and running. We checked back in with her and her team at
Lighthouse Pediatrics in Naples, FL, for this issue and found that they had created a great way to support their patients and families in the community.
Heidi Hallett: Tell us about this special room in your practice …what is it for?
Dr. Dulce Dudley: It's a dedicated room in our practice called "The Swap Shop" and it's a place where our
patients and their families can come and take things they need like clothing and household items.
Heidi Hallett: What was your motivation in creating this community initiative?
Dr. Dulce Dudley: It came about in an indirect way. Dr. Shepard and I have a pretty diverse practice with
some families in our community having a lot and some not having very much. Whenever I would get
ready for a mission trip, we'd get offers of donated items. We decided to open up a room where people could donate their gently used or new items and others could go 'shopping' for much needed items without having to spend any money.
Heidi Hallett: What has the response been from your patients and others in the community?
Dr. Dulce Dudley: The Swap Shop has been a huge success! We have been able to help not only some of our patients and foster families, but we have also helped others in the community during cases of emergency too.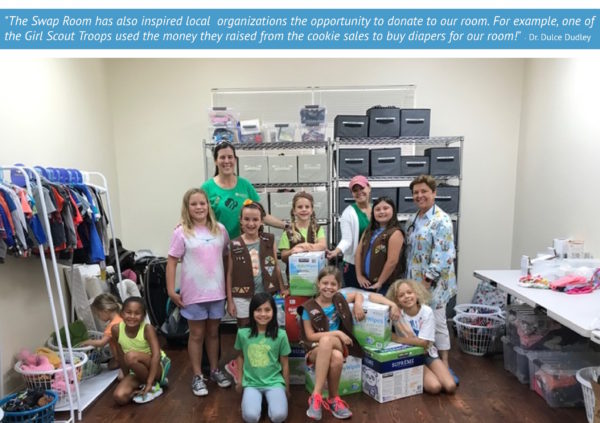 Heidi Hallett: Is there a story that you can share shining a light on how something simple like this can have a big impact? For example, how someone got something they really needed or wanted and how that affected them?
Dr. Dulce Dudley: We heard about a family (not affiliated to the practice) who lost everything in a fire. As soon as we heard the news, I put a request on Facebook asking for donations to help this family.
People immediately responded by dropping off cribs, beds, clothes, towels, food, etc.
On another occasion, we found out that one of our families was not eating dinner together because they did not have a dinner table, so we set out to get them one!
Heidi Hallett: It's inspirational to see how one practice can take such a simple but dignified and effective idea and make such a difference. Thanks for sharing, perhaps others may be inspired to similar action too!