Employee Policies: Do Your Employees Know What to do in an Emergency?
December 21, 2017 | Featured Articles
When disaster strikes, the ensuing difficulties can be overwhelming, and sometimes result in barely controlled chaos. As the owner or manager, your employees and patients will look to you to direct the response to  the situation.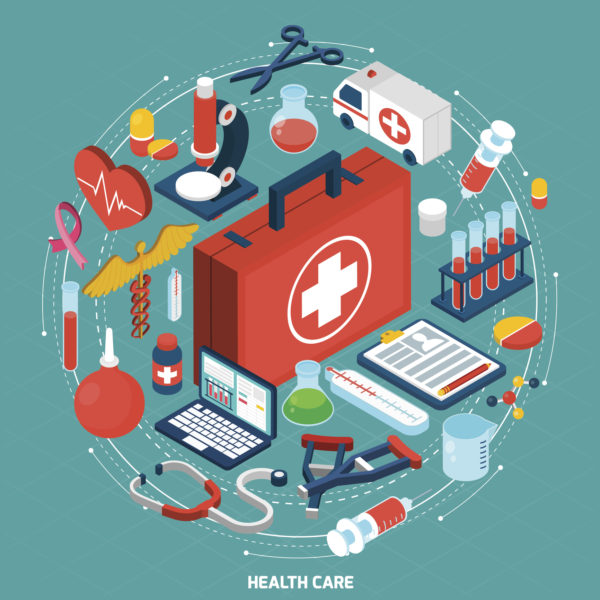 While it is impossible to anticipate all scenarios and the variables that may impact your practice or facility during an emergency situation, you can look ahead and plan to have a procedurally sound plan in place for the most likely of occurrences. A 2016 Medical Group Management Association (MGMA) survey revealed that 49.94% of those surveyed had an emergency preparedness plan in place, but only 28.12% of them had practiced it. Perhaps more concerning, 4.08% were not even sure if they had a plan. Not only are these practices unprepared, they lack the communication structure needed to remain organized and efficient in these situations.
It goes without saying that the time for emergency planning is now, before a disaster or emergency situation is upon you.  Even if you have a plan on paper, the above survey illustrates that taking action on that plan and doing practice drills often gets pushed back and never get practiced.
What to Include
The goal of any emergency policy is to ensure that when confronted with a crisis, everyone knows what they need to do to help minimize damage to the people involved and the business, as well as how to aid in recovery from the event. To achieve this, here are some must-haves that a good policy should contain: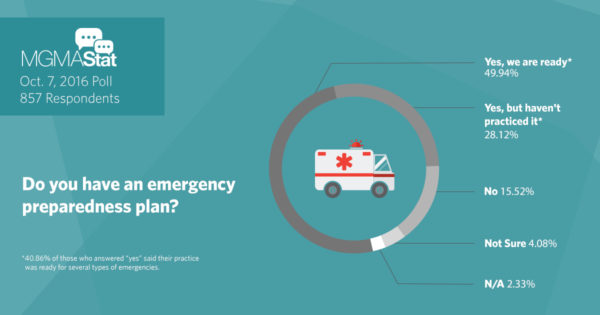 Hierarchy of leadership and decision making:

 

Each staff member should know who they report to for any assigned task and who they will

 

receive the most up-to-date instructions and information from. This information tree should not be limited to the lower staff levels but should include partners, providers, and managers, detailing which decisions and tasks each of them is responsible for. Laying it out ahead of time minimizes the chance that something will be missed or that time will be wasted by multiple people working on the same thing.
Communication plan and methods: Have the necessary phone numbers documented in the plan including local emergency first responders (police, fire, ambulance), hospitals, the practice answering service, any covering providers, supervisors and managers. Determine ahead of time which additional methods of communication will be used and communicate that clearly to the staff AND to the patients. For example, many practices use their social media accounts and practice website to alert patients to office closings.
Keep a secure list of all log-ins and passwords that may be needed by delegated staff. This document need not be accessible to everyone or part of the widely circulated policy, but it is essential that the staff members assigned to these tasks always have access to the most up-to-date information so that changes to voicemail and the website can be made quickly during a crisis.
List of tasks/things to do: This list will vary depending on the type of emergency, but may include such items as:

Backing up the EHR and storing in a secure off-site location

Transporting immunizations and refrigerated medicines while maintaining a consistent cold-chain to preserve product integrity

Securing confidential documents (employee files, patient charts, provider identifier numbers)

Locking the facility securely
Your emergency or disaster policies should be reviewed for relevance and updated at least annually for relevance. Most importantly, PRACTICE, PRACTICE, PRACTICE. Make sure all new employees are trained upon hire, and run drills at least once a year to familiarize and encourage staff to become comfortable and familiar with the routine.
Which Policies Are Needed?
The types of emergencies or disasters that you may encounter will depend on the location of your facility. Many of the procedures that are required for one situation will also work for another, as in the case of different natural disasters. Practices will often combine their emergency policies into one Employee Preparedness Booklet, or create an addendum to the Employee Handbook or Policy Manual. The most commonly addressed situations include:
Natural Disasters and Inclement Weather: Hurricanes, tornados, floods, thunder/lightning storms, snowstorms and blizzards
Power Outages: Prolonged and short-term
Fire: Localized or facility wide
Wide-Spread Illness or Epidemics/Pandemics: Among the staff or regionally
Active Shooter and Workplace Violence: Employee, disgruntled patient/customer, or terrorist
Bomb Threat: Including a script to be used for keeping a potential bomber talking and volunteering information about location of bomb and timing
Lockdown (Shelter-in-Place) and Mandatory Evacuations
Employee Employment Policies in Emergency Situations: Extended absences, lay-offs, reduction of hours, and medical leave
As complicated as it can be just managing the day to day operations of today's medical practice, the trying times we are in demand that we focus our attention on situations that we may or may not ever encounter in our practices.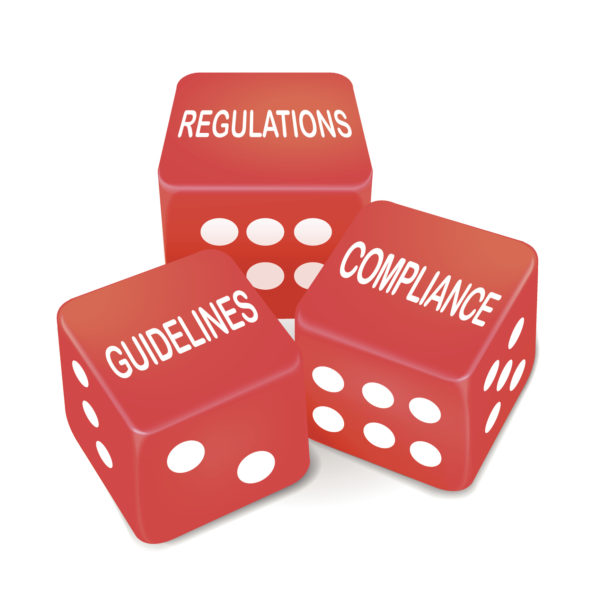 To the extent possible, preparing your employees and the practice for potential disasters will instill confidence in them that you are in control of the situation, they can be useful in the situation, and it will minimize as much damage or loss of life and injury as possible.
Helpful Resource to Get You Started
Many practices find that using a template or sample policy that is customizable works best for their needs. In addition to reaching out to your Compliance or Human Resource Partner, if you have one, a number of organizations make sample policies available for download for a small fee or subscription. Some of these are  www.BLR.com, www.SHRM.org, and www.MGMA.com.
If drafting your own policies, the MGMA suggests a reverse planning model that may help you clearly identify the steps needed.