A question that gets asked frequently is whether a practice should have their billing department in-house or if outsourcing is a better option.
Much like discussions about Cubs vs. Whitesox, Yankees vs. Mets, and Ford vs. Chevy, the answer is not always clear. People passionately argue equally for both in-house and outsourced billing.
In the blue corner, you have the in-house billing crowd. They contend that an internal billing department will always do a better job of staying on top of claims, and collections, than a billing company.
In the red corner, you'll find practices that have had a hard time hiring and keeping qualified billers. Others have had experienced billers quit without notice, go on maternity leave, and not come back, or been victims of embezzlement at the hand of billing personnel resulting in financial hardship. These practices argue managing their billing in-house can be both a burden and a liability. Indeed, each practice's experience supports their views and opinions.
I recently caught up with Dr. Seth Kaplan to talk about his experience with billing. Dr. Kaplan is a solo-independent physician in Frisco, TX, and he has been on both sides of the in-house vs. outsourced billing discourse.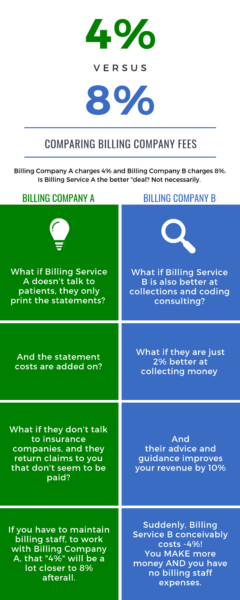 I invited Dr. Kaplan to recount — for the Verden's ViewPoint readers — some of the challenges he has encountered with his practice's billing. I also asked him to provide insight into what he did to adapt to the circumstances and how he managed to work out these issues. Below is his story:
When I opened my practice almost 15 years ago, I was determined to start with in-house billing. My office manager served in this position. Frankly, she was a much better biller than an office manager. She did a fantastic job on the billing side, but a pretty lousy job on the office manager side. Since I was small (just me, eventually adding a part-time MD), this arrangement worked fine for a time.
About two years after I opened, my office manager/biller decided to leave for another job and I was left in a lurch.
My wife had been trained to do the billing, but she absolutely hated every aspect of it and for her to continue in this role would have been the end of my marriage. Meanwhile, billing was not being handled well, and nobody else in my office wanted any part of it.
Not knowing what to do, I turned to a friend who worked for a billing company. He helped me get going with billing on my own and soon after that, I ended up hiring the company he worked for to help us get through this difficult time.
During this time, I hired a new office manager who was fantastic but not a biller. Unfortunately, I could not find another suitable billing person And, frankly, it was a relief to be able to farm this out. Our office established a strong working relationship with this billing company. In turn, we taught them a lot about pediatric billing issues, which they took on with gusto.
Enter 2011, and the 5010 transition was looming. I was also unhappy with the EHR I had at the time and was looking to make a switch. Ultimately, we decide to go with PCC's EHR, which also meant transitioning our billing to PCC's practice management's system.
My old billing company only worked with GE Centricity (our former PM, which hadn't been updated since we went live in 2003 and was going to require $25000 in upgrades to get it 5010 compliant) and Aprima.
We approached our billing company to see if they would be willing to take on another PM system. They looked at PCC's practice management system and decided they couldn't do it.
So, we were left with what to do. We were on good terms with the old billing company but needed a new solution. We looked at bringing billing back in-house but could not find a biller we thought was worth hiring.
Our transition date was approaching, and PCC wanted to know what we were going to do so that they could train a new person if needed.
At the same time, we were dealing with other pressing issues. We were relocating our office, starting to think about becoming a certified medical home, and beginning to explore the Game of Thrones style transition that was taking place in the Dallas marketplace (that's a story for another time).
Ultimately, we decided to use the billing company that PCC recommended. It was a tough transition at first, but it eventually became a very productive relationship. The old billing company agreed to work all claims up to the date we went live with the new software.
We considered hiring an in-house biller again when our contract with the billing company expired, but in the end, we decided we were happy to farm this out. It's one less stress for a small office that was dealing with massive changes that were coming at us fast and furious.
A few years later, our practice joined a larger entity and they had a billing department. So we made another transition. Ultimately things did not work out, and I ended up being independent again.
A front office employee that had been with us for a long time expressed interest in doing some billing. This staff member had been doing some billing training already and was interested in shifting to a primarily billing role. My office manager felt that between herself and this staff member (and the support of PCC) we could successfully do billing in house. And they were right! Bringing back the billing in-house has worked out well, but I've learned that it's all about having the right people at the right time.
Dr. Kaplan's billing saga adds an insightful perspective to the argument. To answer the question, maybe we ought to frame the issue differently. Perhaps, we should consider that issue isn't about location alone (e.g., where is billing located) but rather, where are the right people, with the right resources, and with the right skills located?
Dr. Kaplan is the owner of TLC Pediatrics in Frisco, Texas. http://www.tlcpedsfrisco.com/dr-seth-kaplan.php