Under the Radar – Medicare, Medicaid, and Payment Model Trends
July 9, 2019 | Featured Articles
Since DHHS Secretary Alex Azar announced in January 2019 a proposed rule to both offer drug discounts directly to consumers and disallow drug manufacturers from providing rebates to PBMs, curtailing drug costs has been the focus of national healthcare policy attention. As a headline in the Washington Post on February 1, 2019 noted, "The Trump administration is taking on middlemen that inflate drug prices". Indeed, the need to curb skyrocketing drug costs has been an area of general agreement between healthcare providers, hospitals, insurance companies, and the public.
However, less attention has been focused on other Medicare and Medicaid payment changes emerging this year – with potentially major impacts on physician practices, home healthcare and hospice agencies, and nursing homes. While not garnering as much public awareness as the proposed rule focused on drug-pricing, these changes will have broad healthcare system consequences. Described below are some of these payment changes, along with their potential implications.
Medicare's Review Choice Demonstration (RCD) – Impact on Home Health and Hospice Agencies
June 1, 2019 is the date scheduled for the first of five CMS-selected states participating in the Review Choice Demonstration (RCD) aimed at reducing over-payments to home healthcare agencies (HHAs). It was the outgrowth of the CMS effort to reduce Medicare fraud. Illinois was allowed a choice selection period from April 17, 2019 to May 16, 2019, and HHAs were instructed to choose between the following three options: a) pre-payment review; b) post-payment review; and c) minimal review ("status quo") with a 25% CMS payment reduction.
The other states selected for this five-year period are Florida, North Carolina, Ohio, and Texas. In 2017, Illinois participated in the RCD's predecessor project (PCRD) – and expressed its frustration with disruptive bureaucratic processes that adversely impacted the HHAs' functional capacity in Illinois.
In addition to the RCD, another HHA-aimed CMS payment project – the Home Health Patient-Driven Groupings Model – will commence on January 1, 2020. This will involve a change in the unit of home health payment to a 30-day period and significantly differs from the current bundled-payment system based on a 60-day episode.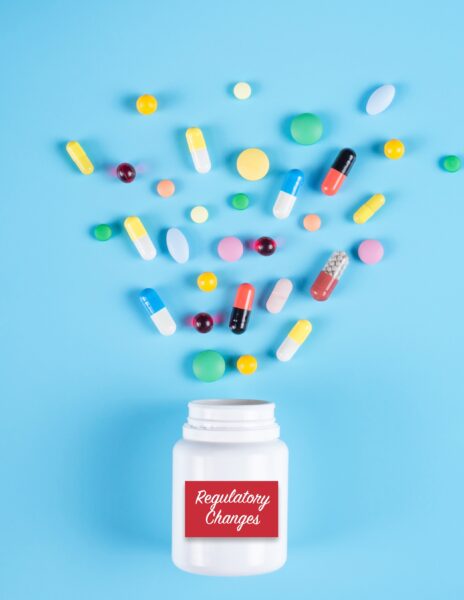 Changed Risk Requirement in Medicare Shared Savings Program
In December 2018, the Centers for Medicare and Medicaid Services (CMS) finalized a rule that requires Accountable Care Organizations (ACOs) to take on more risk or be dropped from the Medicare Shared Savings Program (MSSP).
The National Association of ACOs (NAACOS) has strongly opposed the regulatory change within this finalized rule that requires newly-formed ACOs (i.e., Track 1 ACOs) to also assume downside risk akin to that shouldered by more stable and longstanding ACOs. Furthermore, NAACOS argues that this increased requirement for two-sided risk "could significantly undercut the ability of ACOs to flourish individually and collectively".
However, some healthcare finance researchers have suggested the following as common characteristics of ACOs that have been successful in transitioning to two-sided risk: ACO executive and physician leadership embrace value-based care; systemic administration of financial risk arrangements; reporting systems in place to track and drive performance improvement; coordinated care across the continuum is embraced by physicians and other clinicians; provider network is developed to deliver high value.
Only a small percentage of all ACOs currently participating in the MSSP accept two-sided risk, but this CMS rule change goes into effect on July 1, 2019. While an article in Health Affairs in 2018 supports an eventual switch to two-sided risk as necessary for a federal shift toward value-based payment, it likewise suggests that two-sided risk entails more financial risk for some ACOs (e.g., rural ACOs) than other ACOs.
Indeed, two additional categories of ACOs that may incur greater financial instability through assuming two-sided risk are small ACOs, and those that primarily serve impoverished communities.
Meanwhile, an article published on May 7, 2019 in Duke Today suggested that the three ACO characteristics most closely linked to a decreased risk of MSSP withdrawal are: ACO receipt of shared-savings bonus payments; ACO has high benchmark per capita; ACO has increased care coordination services
Federal Medicaid Regulatory Changes for States
In a recent Pew Charitable Trusts article titled "Trump Greenlights Major Medicaid Changes", the author describes how the Trump Administration is approving requests to cut back on Medicaid-covered services. While Trump appointees' support for adding a work requirement to existing state eligibility requirements has received more mass media attention, the CMS under Seema Verma's leadership is approving states' requests to both curtail benefits and reduce the number of applicants eligible for Medicaid.
President Trump has particularly expressed his approval for a rule change proposed to "public charge" policies on October 10, 2018 that is focused on legal immigrants. This rule change would legalize denying them Legal Permanent Resident (LPR) status (i.e., a "green card") if these immigrants apply (or received) Medicaid or other federal "safety net" benefits. Additionally, this rule change would deny them entry into the US.
Fifteen states have applied for federal approval to require their Medicaid beneficiaries to work, and the following have already received their waivers: Arizona, Arkansas, Indiana, Kentucky, Missouri, New Hampshire, Ohio, Utah, and Wisconsin. However, federal judges have thus far blocked (or halted) most from implementation.
Given President Trump's acknowledgment of the opioid epidemic as a public health crisis, the hypocrisy of granting Medicaid waivers that would likely require opioid addicts in day-treatment programs to work or lose their Medicaid eligibility is astounding.
Payment Changes to Nursing Homes (Skilled Nursing Facilities)
On April 19, 2019, a final rule was issued by the CMS updating – in concordance with the Patient-Driven Groupings Model – Medicare payment rates for SNFs (nursing homes). While the purpose is to shift nursing homes toward a value-based payment system, the Center for Medicare Advocacy suggests that the financial incentives under this rule are configured in a way that higher reimbursement to nursing homes is tendered when a resident receives no type of therapy – rather than when some type of physical (or other) therapy is provided.
Nearly 50% of nursing home residents (and 32% of HHA clients) have Alzheimer's disease, as reported by the CDC. Whether someone has Alzheimer's disease, Lewy Body dementia, prefrontal lobe dementia, or some other dementia form, participating in activities that require problem-solving at an early stage can slow the progression of dementia.
In addition, depression often accompanies increased social isolation (as often occurs in wheelchair-bound residents in nursing homes), and depression can likewise worsen dementia. Therefore, de-incentivizing nursing homes from providing occupational or recreational therapy to residents can lead to more rapid cognitive decline.
Trump's "Conscience Rule" – Impact on LGBT Patients
On May 2, 2019, a DHSS rule expanding the capacity of healthcare workers to deny care to patients on religious grounds was announced. While this regulation is not specifically related to Medicare, Medicaid, or payment reform, its implications are so enormous that it needs to be included in considering the scope of healthcare system changes this year that have occurred "under the radar" for most Americans.
Senior-aged LGBT people have long experienced the impact of discrimination in their lives, and this regulation promotes the continuation of this discrimination just as they are most in need of more compassionate healthcare services.
Concluding Thoughts – Trump's Wide-Ranging Attack on the Nation's Health
Not every Trump Administration healthcare-related policy has generated broad public comprehension or awareness. Indeed, some policies promoted by the Trump Administration affecting healthcare access are more destabilizing than others. However – taken as a whole – these policies demonstrate a poorly-conceived vision of a US society that is health-promoting and assumes responsibility for the well-being of future generations.
Historians twenty years from now may yet record the coming year as the time we let our president and his cabinet appointees harm our children's chances of attaining a healthy old age.