Employee Turnover: The True Cost of Hiring a Replacement
September 22, 2017 | Featured Articles
Your nurse announces that she is leaving the practice, after less than a year on the job, and your office manager is left scrambling to find a replacement. Sound familiar?
It can feel like a revolving door at your practice, with a never-ending parade of new employees each needing to learn the ropes.  Staff turnover disrupts routines, impedes patient care, and wears down office morale and the team's 'spirit'. When all is considered, including the cost of the hiring and replacing staff, your practice is losing much more than an employee.
In a recent survey conducted by the Medical Group Management Association, 50% of respondents reported that clinical support staff positions – such as nurses and medical assistants – had the most job changes. This was followed by a high turnover for receptionists, medical record and transcribing staff as noted by 32% of the responding parties. And each time an employee leaves, your practice is taking a financial loss. But how big is that loss? Let's quantify.
Going Beyond Salary
An employee's salary and health benefits are the obvious costs to factor in, but a look at the life cycle of an employee helps us to identify a number of different items that directly and indirectly impact employee cost. The following infographic identifies areas and items that are often overlooked when budgeting for new and replacement employees: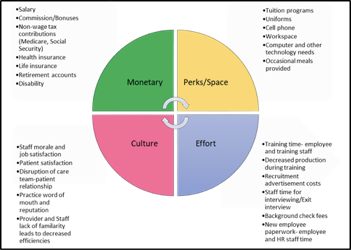 While some expenses are pretty obvious and can be accounted for directly – advertising, background checks, etc., there are some expenses more typically overlooked.  For example, it is not as easy to account for the tremendous amount of time involved in on-boarding new employees in the form of training, decreased production and efficiency with a smaller workforce, time for review and handling of HR compliance and other related activities, all creating a drain on your practice, and stressing your seasoned staff who are on-boarding the new employee into the practice.
Morale – An Expensive Loss
Even more difficult to quantify is the impact high turnover can have on the employees who stay on. Ripples are created when a staff member leaves: concerns about why the employee left are raised, such as being underpaid, and this can create a feeling of discontent within the rest of the employees. They may begin to question their role in the practice and whether 'the grass is greener' elsewhere. And there is always some resentment at having to shoulder a heavier workload, or frustration at needing to train a replacement employee, and discomfort at the disruption of established routines and processes. In short, when one employee leaves, it can spark a cascading effect throughout the practice.
All of this results in an impact to patients. The relationship between a patient and their care staff is an intimate one, and these relationships extend to the administrative and support staff as well, especially in a practice where patients are seen repeatedly. A cadre of new faces every few visits can disturb the patient's sense of comfort and familiarity. Even worse, an unhappy employee may mutter about their concerns to the patient and create an unnecessarily negative view of the office . . .
Ending the Cycle
Invariably, there will be some employee movement into and out of your practice. Staff may relocate, retire, change careers or move to positions that suit them better. However, it is possible to stem the flow of employee turnover with a targeted retention plan geared toward minimizing the number of employees exiting, reducing the need to on-board replacement staff and stopping this massive drain on your practice.
Poll people that leave.  An exit interview or survey can be a very useful tool in determining if there is a pattern related to the turnover in your practice. A departing employee may openly share their thoughts on what can be improved in the practice, how they feel they were treated by staff and patients, and what changes they would recommend that would have led to them staying. True, some employees may take this opportunity to vent frustrations that are not necessarily system failures, however, the goal is identify key weaknesses that can be addressed and remedied for the future.
Evaluate each position in your practice and determine the following:
Are you creating a desirable work setting?

Are tasks appropriately assigned and performed?

Are you hiring appropriate staff and training them adequately?

Are you offering effective ways for staff to communicate?

Are staff members supporting each other?
Source: Family Practice Management, AAFP
Develop a comprehensive employee engagement plan. You can review a previous article, Enhancing Customer Service The Disney Way, to help create that plan. The goal is to cultivate a better culture and to capitalize on the fact that new employees are coming on-board with enthusiasm and a fresh, positive impression of the practice. A carefully cultivated plan gives you the opportunity to secure commitment to the practice in incremental steps along the course of their employment, helping them to transition their thinking from 'my job is here' to 'my career is here'. Engaging employees fosters longevity by helping them to see that the practice values their contributions and is interested in them personally and as a member of the team.
A solid engagement plan should include:
A communication plan that allows for two-way communication, allowing for employees to be kept up to date on company happenings, changes and accomplishments, as well as encouraging employees to voice opinions and ideas via appropriate channels in a positive, constructive way.
A focus on proper training and opportunities for career development. A comprehensive training program can eliminate employee frustrations, better set company expectations, and ensure uniformity of experience for the patients. If your practice does not have much opportunity for upward movement, continually investing in enhancement of your employees skills and engaging them in quality improvement projects will provide for richer job satisfaction.
A well-defined culture and mission statement.

 

If employees do not know what the practice is all about, how can they deliver on the mission, or align themselves with those goals? Define your practice's culture, and be sure to embed the mission throughout all activities, from lower level staff through the providers and management.
Creating targeted retention and employee engagement plans is a process, especially if you have already noticed that turnover at your practice has increased in recent years. And while this process will initially cost an investment of time, it is very much a cost-saving measure for the long-term. Understanding the true value of an employee in your practice and the real cost when an employee leaves helps to provide incentive to invest in a long-term employee engagement plan. Doing so will ensure a high return on any employee investment.