There's no denying that social media is a key component of effective marketing for your practice and its influence in the medical community continues to grow. The digital landscape of today offers many opportunities to spread awareness of your practice and services to a wide audience. And with the advent of online reviews, patients can be your best promoters about your services and care on social media, allowing you to grow your reputation online.
According to this article from Response Mine Interactive, 77% of patients said that a doctor's social media reputation has an influence in their decision on which provider they choose. Patients will research a doctor on social media and pay attention to ratings and reviews written by other patients, much like they do when shopping for goods on, say, Amazon.com. When patients leave positive feedback about the quality of the care and the types of services they received and give you high ratings, that leaves a positive impression that potential patients will see, making it more likely they'll choose you as their provider. In addition to the promotional value, you will also gain valuable insights into what your patients think about your services and how they felt about their experience at your office. This will let you know what services you can improve and any new ones you might consider adding.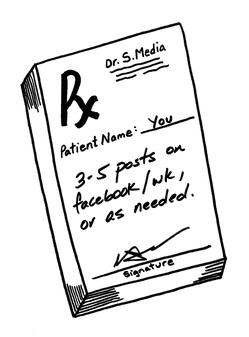 But it doesn't stop at individual patient experiences. Promote your services and gain new prospects by letting your local community know about your practice too. Being part of a network or group and contributing to the conversation can get you recognized as the 'expert' and ensuring that you have on-going promotional activities can make sure that you are known throughout the local community. The best outcomes through social media engagement is the development that you are the 'go to' office in town.
To be successful, it's important that you learn some effective social media marketing strategies to grow your practice. Let's take a look at your options.
Choosing Social Media Platforms
Your first step is determining which social platforms will work best for your practice. Each of the following four platforms offer unique opportunities, audiences and methods for sharing content. ​​
Facebook
With 1.71 billion monthly active users and 1.13 billion daily active users, Facebook is one of the strongest platforms to connect with patients and prospects. One of Facebook's advantages is the extent of its reach into key demographics. Of internet users in the U.S., 82% of 18-29 year olds and 79% of 30-49 year olds use Facebook — that's over three-quarters of Americans online! An easy to use platform, making status updates, sharing photos and links to your site and others is a snap – just click on the type of post you'd like to make (see illustration) and follow the easy to follow steps to publish your post.
Your Facebook page is like a window into your practice. Let the personality of your practice and your team shine through with authenticity and people will want to engage. Practitioners like Dr. Tanya Altmann know the value of a strong social media presence and her Facebook page is a shining example of doing it right. With almost 3,600 followers and a 4.9 star review rating, Dr. Tanya's page is a go-to source for information on parenting and nutrition advice.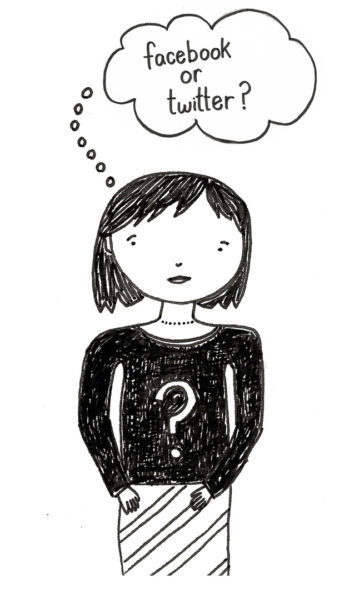 Twitter
If you're looking to engage with the medical community or media influencers, Twitter is a great tool to discover those users and create relationships with them. With 67 million users in the U.S., Twitter has a large audience with whom to connect.
On Twitter it's all about keeping it short and sweet. With a limit of 140 characters (that's letters, punctuation and spaces) you need to be succinct and part of that is using hashtags effectively. Think of hashtags — words or phrases prefaced with the # symbol — like an index in the back of a book. When you search for a topic by hashtag, all the tweets with that tag will be gathered in a list. With 66% of Twitter users saying they discover new businesses that way, the right hashtag can make your tweet be the one that gets noticed.
You can get used to twitter by searching keywords and hashtags (that's a word with # in front of it, such as #health) on topics like medical, health, wellness, doctor, and healthcare to see the top or latest tweets and conversations containing these words. Join the conversation by replying and re-tweeting to help establish online connections and increase the chance of gaining new followers.
When sharing a blog post or an article, it's important to always tag the author's Twitter handle so they see you sharing their content. Continue engaging with users that you connect with to maintain follower loyalty. Twitter also allows you to create lists where you can add users to specific groups making it very easy to target a group of users with one tweet or to find their tweets on specific topics. For example, if you are following a parenting blog, you might want to add them to a blogger list. That way, you can easily find their latest posts by going to that particular list.
Instagram
At only 7 years old, Instagram may be one of the newer platforms on the market. As of December 2016, Instagram had 600 million monthly active users, and that's up from 500 million in the six months prior, so you can see how quickly this is becoming the place to, literally, be seen. It has gone from a niche photo sharing app to an essential marketing platform for many businesses. Instagram is all about photographs and visuals and can be used to show the 'behind-the-scenes' aspects of your practice.
Further, being called the "happiest place on the internet by Psychology Today, Instagram is a great platform for infusing your marketing with creativity, happiness and smiling faces. Pictures of your office and staff are a great way to build personal connections with your patients and to show potential prospects the welcoming feeling they will get when they visit. It also gives you the opportunity to share personal tidbits about your team such as their hobbies and interests outside of work. And their pets. (Instagram users love a good animal pic) So if you like to take photos, Instagram may be the place for you! Like Twitter, Instagram's reach is more effective when your post includes those hashtags. You can target your state, city, or community easily and effectively with the use of hashtags too. Take the Instagram post from PM Pediatrics, for example. With this one image, a short message and a couple of hashtags PM Pediatrics is sending the message "We're fun, friendly people," and "This is a happy place to visit."
Pinterest
Even larger than Instagram, Pinterest commands 70 million domestic users and calls itself the "the world's catalogue of ideas". That is a good tagline, as it is considered by many to be the platform for inspiration through its easy topical searches and visual approach. Much like a virtual bulletin board, its primary use is often for finding and saving recipes, parenting hacks, style inspiration and creative pursuits. Posts on Pinterest are known as pins and they always include image that then links back to the source website.
Pinterest is a place where you can curate content to pin (share) on boards that you create. Showcase the personality of your practice by choosing content that represents your practice's brand and create boards for topics that will be of interest to your patients. A family practice, for example, may want to create boards for topics like food & nutrition, family fun for events in your community, crafts & activities for kids, stress management, and inspirational quotes. Users can search by interest, so when someone keys in "food for picky toddlers" the content you have pinned on that topic will appear in their results.
Consider this: Pinterest is heavily invested in building out its platform with the latest in 'machine learning', in order to better understand the content and the people using Pinterest. Now you can see how new parents may be matched quickly to your practice for pediatric content that matches their interests. Essentially, you can post and just let Pinterest do the rest of the work for you!
Key Tips
Whichever social platforms you decide to use, you'll want to showcase your brand by including your logo or a picture that best represents your business and images that convey the personality of your practice. Be thoughtful in your photo selection and if you don't have a great one that represents your practice it is worth the small investment to have a professional photo taken. Always be sure to add information about your practice, including services, location, hours of operation, website link, and contact information. Keep in mind that you don't need to be active on all social platforms. You may want to start out with one or two so you don't feel overwhelmed. Choose the platforms that would work best for your practice. Ask your patients which networks they use by handing them a quick survey at the check-in desk that lists the main networks and asks them to check off the sites they use. Even better, ask them to rank which sites they use from least to most. If the majority of them use Facebook, then that is the best network for you to set up a profile. ​
Finding Your Voice
Once you have your social pages set up, you can start posting content and growing your audience. Posting engaging and interesting content is vital if you want to engage followers and have them share your content further afield. There are two important things to keep in mind before you start posting; know your target audience and stick to your brand. Think about what interests your patients and your local community most. Ask yourself what they care about most when it comes to healthcare and their families? 'Sticking to your brand' means focusing on what sets you apart and makes your practice unique, the feeling or qualities that make your practice different from the one down the block. Your 'voice' is an extension of that brand; it is the style and personality that comes across in your messaging. Be consistent in your voice — for an example, if you run a pediatrics office, your brand's voice may be friendly, fun, and family-focused, whereas a multi-specialty practice may use a more serious tone that reflects the experience and expertise of their practitioners. stores and determining the price of goods without any consumer resort due to lack of purchasing options, oversized insurance companies wield power over patients, who may no longer be able to afford insurer-determined co-pays for medical services, and physicians, who may be paid much lower fee-for-service rates. It may take physician and consumer outrage at continuously rising premiums, deductibles, and co-pays to influence government action to limit insurance company power.
Developing Engaging Content
In addition to sharing pictures and info about your team and facilities, you also need to include posts about the services your practice offers, such as same day sick visits, flu shots, breastfeeding consultations, nutritional counseling, etc. Find new and creative ways to share information about these services often as a consistent reminder to new and existing patients. Humor is a great tool for engaging on social media — instead of just posting a text-based notice about same day sick visits, include that funny comic you saw online about colds and flu.
In addition to posts about your practice, it's essential that you also share content that is not directly about your business but is of interest to your audience. Social media gives you the opportunity to be a resource of information for your specific audience. To keep patients and followers consistently engaged with your pages, it is always good to post content that provides them with helpful information or content that can enrich their lives. Examples include such topics as general healthcare tips, diet and nutritional advice, safety tips for sports and other activities, how to treat a rash, or how to get a good night's sleep.
Share posts from other pages and accounts that would be relevant to your audience and be sure to tag the account from which you are sharing. The same should be done when sharing an article from a website. For example, if you post something from The Wall Street Journal, tag their account. Tagging is expected and appreciated in social media as you're providing more exposure for others and thus, those pages become more likely to follow and share your content as well.
Make your content as visually interesting as possible a studies have shown that people respond better to visual content. Infographics are a great way to do this and are visual representations of information designed to present the material quickly and clearly, which in turn makes them ideal for use on social media. You can search online for infographics on topics of interest to your patient base, or consider creating your own using one of the many online tools available such as infogr.am. To keep your pages fresh and interesting to a large audience, be sure to share helpful info about a wide range of interests including local activities and events in your community, parenting and family articles, and inspirational quotes. Having a good mix of content encourages your audience to keep coming back and interacting with your pages.
Another effective strategy in social media marketing is to ask survey type questions. Your surveys can be just for fun or to get useful feedback from your patients. Your question could range from, "Brussels sprouts or spinach? Which foods do your kids refuse to eat?" to "Do you know if you are overdue for a well visit?" with responses to check off. It's a great way to get people to respond to your posts and engage with your practice, and a useful tool for determining which services your practice can improve.